International
ABOUT INTERNATIONAL
Internationalisation

Globalisation has made the world more interconnected. Overseas expansion has become a natural and crucial decision to drive business growth for every startup.
As Singapore's startup representative, ACE provides support and resources for these two areas:
Outbound: Singapore based startups looking to expand overseas
Inbound: International startups looking to expand in Singapore
---
How We Help
Landing & Set-Up

We support tech startups to land & set-up in our ACE International Centres together with our international partners

Fundraising

We connect tech startups with relevant regional VCs for overseas fundraising through regional Meet the VCs sessions

Go-to-market strategy & Product-Market Fit

We organise market advisory clinics with in-market experts and market access partners to advice startups on their go-to-market strategy and product-market fit in the overseas markets

Business Leads

Together with our partners, we match relevant startups with overseas corporate innovation teams for potential open innovation collaboration. We also work closely with out market access partners to support startups to scale in the overseas markets
Internationalisation in Asia
Ecosystems in Asia-pacific have observed significant growth and impressive performance as well. From having 20% of the top ecosystems last year to having 30% of them today, the region has grown with new centers emerging as global or potential global centers of entrepreneurship. Benefiting from the larger access of tech, technology centers like Shenzhen, Seoul and Tokyo have established themselves as a global center of entrepreneurship.
Similarly, South-East Asia has seen improvement as well. Regional centers of entrepreneurship like Jakarta, have seen remarkable growth and performance and were named as the 2nd emerging ecosystem. Internet sectors in Southeast Asia continue to see strong growth, hitting $100 billion in 2020 and on track to cross $300 billion by 2025.
---
What We Do
Market Immersion Programme
ACE Market Immersion Programme is a structured 1-week programme for startups to gain deep insights into the overseas market. It also includes business meetings and pitching sessions for participants to make meaningful connections with corporates, government agencies, and investors.
Market Insights
ACE Market Insights engage with international country experts to shed light on the opportunities overseas and insider tips on market access. This series increases participants' exposure to innovation hotbeds around the world and key emerging markets in our region.
International Business Matching
ACE works closely with our network of international partners to support startups through business matching with corporates and investors in the region.
Regional Meet-the-VC Programme
Regional Meet-the-VC Programme provides a platform for tech startups to meet regional risk capital 1-on-1 to explore potential investment partnerships, at the same time receiving valuable insights and business advice from VC's point of view.
---
ACE International Network
Southeast Asia
| | | | | |
| --- | --- | --- | --- | --- |
| | | | | |
| | | | | |
North Asia
| | | | | |
| --- | --- | --- | --- | --- |
| | | | | |
| | | | | |
| | | | | |
Rest of the World
| | | | | |
| --- | --- | --- | --- | --- |
| | | | | |
| | | | | |
---
Our International Centres
[Thailand] True Digital Park–ACE Singapore Centre
Singapore startups will be able to leverage on the TDPK-ACE Singapore Centre as a Landing Zone for access to local partners, spaces for work, participate in market-focused programmes and be plugged into the Thai business community.

Address: True Digital Park – ACE Singapore Centre, 7th floor, 101 Sukhumvit Rd, Khwaeng Bang Chak, Prakanong Krung Thep Maha Nakhon 10260, Thailand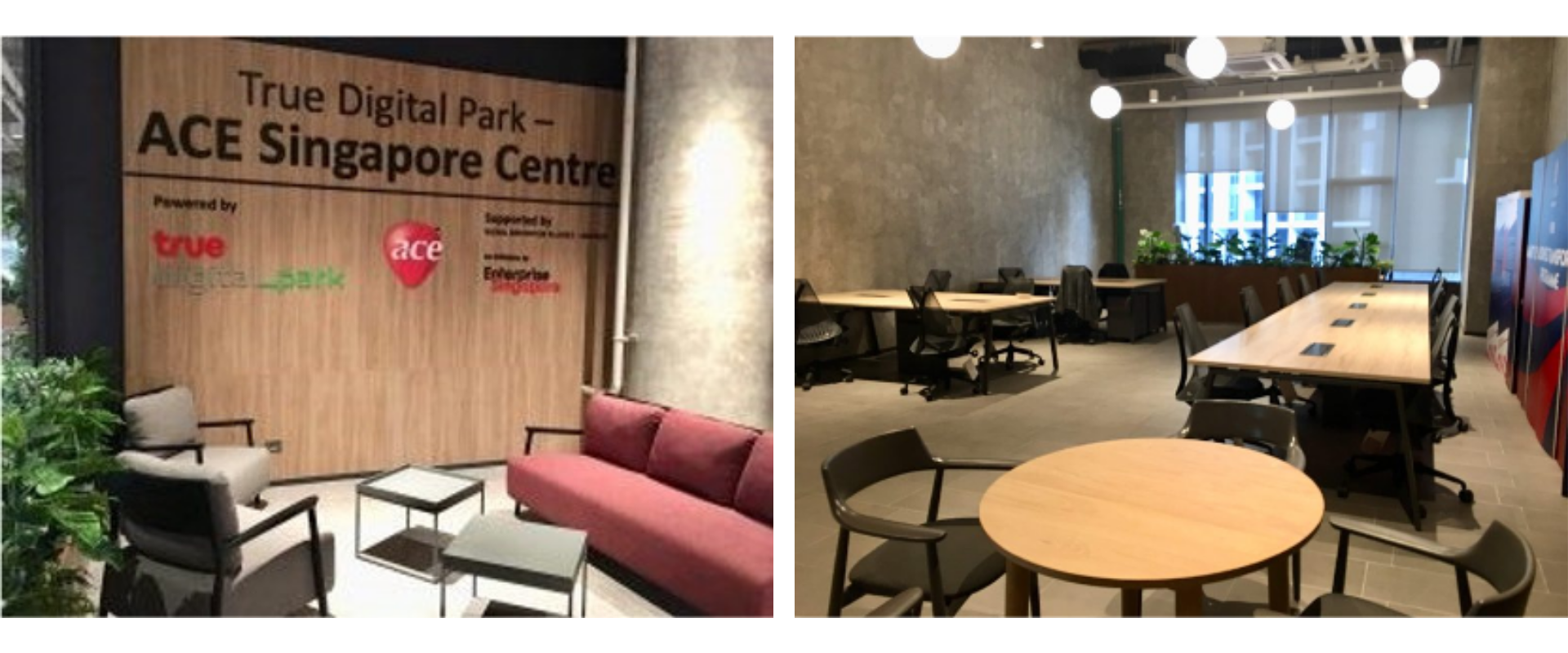 ---
TALK TO US
If you are keen to expand internationally, contact us at info@ace.org.sg to find out more about our upcoming international initiatives.