EPIC 2019: Igniting Co-innovation within Singapore's Startup Ecosystem
Within Singapore's dynamic startup ecosystem, how does one further ignite innovation and collaboration?
Make it EPIC! That was how the inaugural edition of the EPIC – "Experience the Power of Innovation and Collaboration" festival went. Over 800 attendees came together to experience EPIC-themed activities, such as the startup career fair at LaunchPad @ one-north and island-wide open house hosted by various companies. Jointly organised by ACE and JTC, and with the support of Enterprise Singapore, the one-day EPIC festival on 16 Aug provided one common platform for their ecosystem partners to innovate, connect and collaborate.
In his opening address at the corporate co-innovation forum at Bountie Arena, Dr Koh Poh Koon, Senior Minister of State, Ministry of Trade and Industry and Patron of ACE, pointed out that the commendable growth of Singapore's startup ecosystem did not happen overnight nor by chance. He paid tribute to the efforts of various partners, such as the Action Community for Entrepreneurship (ACE). ACE is a private sector-led organisation with the mission to drive innovation and entrepreneurship in Singapore. First launched in 2003 by the Ministry of Trade and Industry, it was restructured as a private entity in 2014. Today, ACE plays a key role in building a dynamic and sustainable startup ecosystem in Singapore.
Many startups, such as Carousell and MoneySmart, had a presence LaunchPad @ one-north. LaunchPad @ one-north is now a vibrant research and business park that serves as a fertile ground for research, innovation, and test-bedding. Today, it is home to a pool of 5,500 entrepreneurial talents from around 800 startups and 50 enablers.
In his speech, Dr Koh noted that co-innovation is a win-win approach to grow the startup and broader enterprise ecosystem. He applauded the EPIC festival for bringing the community together, and sparking off possible collaboration for innovation.
To further promote co-innovation and in conjunction with ACE's 5th-year anniversary as a private sector-led organisation, Dr Koh announced the launch of ACE's Innovation Enablers Network (IEN), supported by Enterprise Singapore. The IEN brings together active innovation enablers such as A*ccelerate, Airmaker and IMDA PIXEL, to aggregate corporate co-innovation opportunities and provide a platform for corporates and startups to drive co-innovation. "Besides benefiting start-ups in their strategic partnerships with corporates, the network will also support the value proposition of Singapore as a global innovation and startup hub," he added.
An exciting line-up of panels then followed, with distinguished speakers across industries.
From left to right: Mr Edmas Neo, CEO, ACE, Dr Sze Tiam Lin, Senior Director, Intellectual Property Intermediary (IPI), Dr Ryan Chaw, External Technology Acquisition Director (APAC), Mr Adam A, Executive Chairman, Padang & Co, Ms Wendy Bao, Executive Director, Roche Diagnostics, Mr Edmund Lim, Director, KPMG Digital Village, Mr Chris Murray, Head of Operations, R2 Datalabs.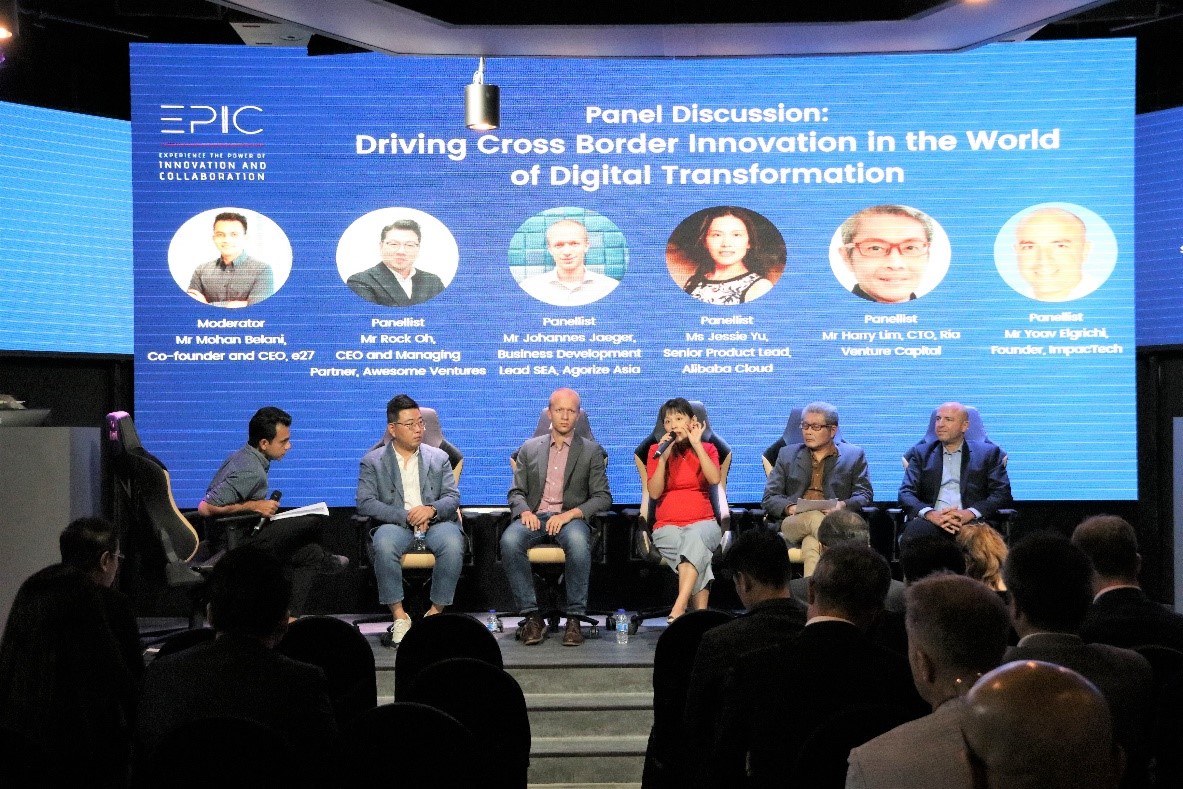 From left to right: Mr Mohan Belani, Co-founder and CEO, e27, Mr Rock Oh, CEO and Managing Partner, Awesome Ventures, Mr Johannes Jaeger, Business Development, Lead SEA, Agorize Asia, Ms Jessie Yu, Senior Product Lead, Alibaba Cloud, Mr Harry Lim, CTO, Ria Venture Capital, Mr Yoav Elgrichi, Founder, ImpacTech
The panel discussions sparked off a lively conversation on how co-innovation can drive growth opportunities for all. Some of key takeaways from the panelists' include:
The world of digital transformation brings about speedier and greater

connectedness of regional ecosystems

, hence it is important to

provid

e

greater innovation opportunities beyond just one market.

Collaboration across cultures can be phenomenal. Yet, it is important to know your customer and localise your offerings and products. This can be achieved more easily with the right partners with the right know-hows.

In

a disruptive age

where new technologies and platforms transform the landscape and playing field of commerce, established corporates

may not have all the required competencies. They need to look outside of their corporation and seek collaborative efforts to co-innovate.

Corporates might face initial inertia and challenges in embracing co-innovation.

Innovation Enablers

can help

bridg

e the gap

between the corporates and the startups, and in driving successful and sustainable co-innovation outcomes through engagement with stakeholders.
In the spirit of co-innovation, the forum rounded up with the Corporate Pitching and Startup Matchup segment. Leading MNCs shared their co-innovation journey and introduced existing problem statements that they require solutions for. Shortlisted startups were then invited to pitch their solutions, in a bid for up to $25,000 in prize money for solving each problem statement.
"I'm impressed by the quality and diversity of participants at EPIC2019. Big names like Coca-cola, Roche Diagnostics and Rolls-Royce etc, are the corporations that startups are interested to be linked up with" said Mr Ernani Omar Cruz, Founder & CEO of stash, a health tech company based in the Philippines. "It helps that the Matchup segment provides real world problem statements for start-ups to work on, instead of having start-ups to think up issues on their own," he added.
"Corporates are encouraged to tap ACE's network of start-ups and leverage the IEN to share their problem statements," said ACE Chief Executive Officer, Mr Edmas Neo.
Indeed, EPIC2019 has successfully brought together ecosystem partners, corporates, SMEs, startups, innovation enablers and talent to one common platform to innovate, connect and collaborate. By igniting co-innovation within Singapore's startup ecosystem, we have taken an EPIC step towards the EPIC vision of Singapore becoming a global startup and innovation hub.