Startup Feature: Damian, Founder of Motorist
Motorist: For Smart Drivers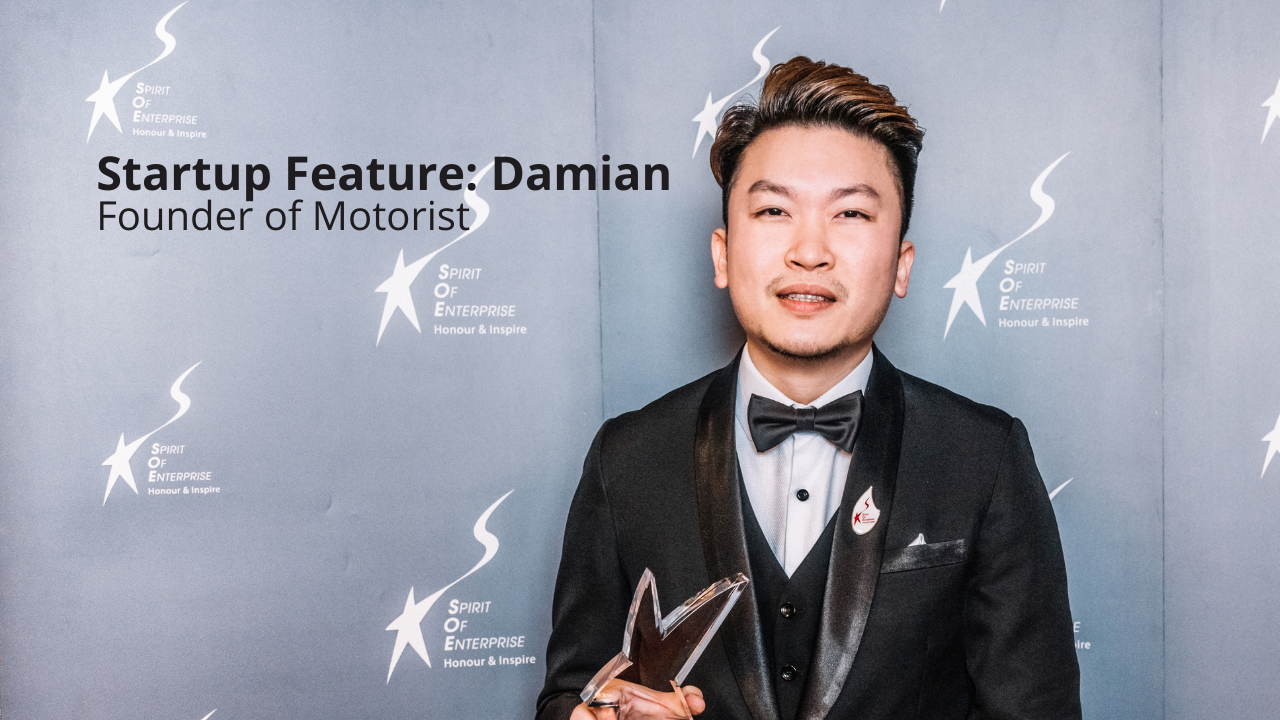 In today's Startup Feature, we interviewed the founder of a local startup, Motorist, whose company mission is to simplify life for drivers with their all-inclusive ecosystem of auto services and tools tailored to provide a seamless driving experience. Read more about Damian below:
• What is Motorist, and what inspired you to startup?
I founded Motorist in 2015 after I tried selling my car on my own for the first time. As a first-time seller, I found the car selling process to be inefficient and time-consuming. I also had to deal with dishonest dealers who were looking to take advantage of my inexperience. There were also several documents that were confusing and paperwork that I was not aware of.
As a busy entrepreneur, I didn't have the time for all these inefficiencies and procedures. That was when I figured a hands-off approach would be the best solution. Motorist was eventually founded based on my personal experience. It now serves as a platform to simplify vehicle ownership by helping fellow drivers to transact their vehicles as quickly and efficiently as possible.
• As an SME Talent Programme (STP) approved company, how has the programme been and how has it helped your company with your talent needs?
Since becoming an approved company for STP, Motorist has hired 20 to 30 interns over the past 3 years. STP has allowed us to increase our capabilities and workforce resources at a sustainable cost and lowered risk. Also, some of these interns came back and converted to full-time employees after graduation.
• What are your upcoming plans for acquiring and developing talents through the Global Ready Talent Programme (GRT)?
I hope to be a part of the GRT and continue our current involvement of supporting the short term and long development of our local talents.
• What excites you in terms of the China market?
Besides the fact that it has a larger market size, I feel China and its citizens are a lot more tech savvy than Singaporeans. They also seem more receptive of making transactions for big-ticket items, such as cars and property, through technology.
Unlike in Singapore, it is also easier to integrate new ideas and solutions in China. Take Tiantian Paiche for example – It is a Chinese company with a similar business model as Motorist. Although it was founded around the same time as us, it is now a unicorn company with several successful funding rounds.
• What are your actual/ intended activities in China?
The main reason why I came to China is to explore market opportunities and to see how feasible it is to establish our business there. I also wanted to meet with Chinese investors who are keen to invest in the motoring industry in ASEAN.
As mentioned earlier, China is very competitive in terms of new technologies and strategies. We were also hoping to see if we can bring any of these ideas back and implement them in Singapore.
• What challenges do you face in your market expansion China?
China is an untested market for us. Honestly, we are not even sure how and where to start. We probably need to bring in someone to help us with any expansion plans. This person must be familiar with the rules, regulations, and market habits of the Chinese market. Of course, there will also be localization issues as well.
• Why did you join the GIA-ACE Market Immersion Programme, China? To what extent has the Immersion Programme supported you so far?
We wanted to use this opportunity to learn how to solve the challenges that I've mentioned above. We also wanted to leverage on ACE's expertise and explore the possibilities of expanding to China.
Our biggest takeaway is the contacts who will be able to help us 'soft land' in China. Thanks to ACE, we've met interested investors and key individuals who will be able to assist us when we are ready with our China expansion plans.
• What are your short-term and long-term plan for your Go-China Strategy?
Unfortunately, we don't have any plans for it at the moment. We probably need to gather more research about the Chinese market, including the laws, regulations, and market practices. Support in these areas would greatly help us!
• What advice would you give to startups and scale-ups looking to enter and tap on the massive China market?
I feel that it is essential to choose to the right city to set up your business. Different locations may have different practices, so choosing the right environment will improve your chances of success. Speed is also very crucial. With China being as competitive as it is, you must learn to work with haste to keep up with any competition. Lastly, to thrive, the company must continuously innovate and set itself apart from its competitors.
More info of Motorist: https://www.motorist.sg/